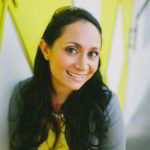 Uma Sanghvi helps people release fear & anxiety, connect with their Higher Self wisdom and live a radiant life of rest and joy.
What do Irish fiddling, Harry Potter and Spirit Guides have in common? Let's find out!
Abigail Steidley is a mind-body coach (and healer and mentor) who walks her talk. In her twenties, Abigail found herself suffering with pelvic pain syndromes, vulvodynia, interstitial cystitis and other chronic pain syndromes. After the frustrating experience of seeing many doctors who were unable to help her, Abigail found a way to solve the mystery of her pain — essentially all on her own.
She read books by Dr. John Sarno and other mind-body pioneers, and assimilated their theoretical framework for healing into a set of practical tools that anyone can use to heal from chronic pain.
Abigail began training other coaches to implement her mind-body tools with their own clients, and in 2011 Mind-Body Coach University was born. In 2016 I completed Abigail's six month long intensive coach training program, where my mind practically exploded with growth. I learned so much (and continue to learn so much) from this wise woman.
Abigail is also the Life Coach Training Director for writer, Harvard sociologist and O Magazine columnist Martha Beck.
I'm delighted I get to share one of my mentors with you today. Enjoy!
Check out these highlights:
[6:10] The hidden gift of chronic pain
[11:20] What it feels like when intuition is talking to you
[31:00] What is spiritual bypass?
[35:40] Two easy tricks for staying grounded during the day
[39:40] Abigail's morning routine
[46:40] The ONE thing Spirit Guides always tell her to do MORE of
And my favorite….
[49:00] "The Universe was grabbing me by the throat and saying YOU MUST LEARN THIS"
*  *  *  *
For more information, please visit Abigail's website.
She's launching a new training program soon! If you're interested in that program or being coached by Abigail, be sure to check out her website.
Thank you for tuning in!
* * * * *
👉  Do you struggle with anxiety, stress and overwhelm? I can help.
👉  Click here to schedule a free discovery call with me.
* * * * *